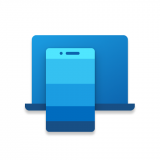 Link to Windows
Microsoft Corporation
Trusted App
Whats new in version 1.22082.136.0-beta
✓ We're working behind the scenes to improve the app and bring you the best cross-device experiences possible. This release lays the groundwork for upcoming features, and includes some performance fixes and upgrades.
Description of Link to Windows
You love your phone. So does your PC. Get instant access to everything you love on your phone, right from your PC. To get started, install the Link to Windows app on your Android phone and connect it with the Phone Link app on your Windows PC.
Link your Android phone and PC to view and reply to text messages, make and receive calls*, view your notifications and more.
Make emailing yourself photos a thing of the past as you share your favourite images between your phone and PC. Copy, edit and even drag and drop photos without ever touching your phone.
• Make and receive calls from your PC*
• Manage your Android phone's notifications on your PC
• Access your favourite mobile apps** on your PC
• Read and reply to text messages from your PC
• Drag files between your PC and phone**
• Copy and paste content between your PC and phone**
• Instantly access the photos on your phone from your PC
• Use your PC's bigger screen, keyboard, mouse, and touch screen to interact with your phone from your PC.
The Link to Windows app comes integrated so no additional apps need to be downloaded from the Play Store.
Link to Windows is easy to find in the Quick Access tray (swipe down from the top of your screen to access it).
Exclusive features like cross-device copy and paste, Phone screen, file drag-and-drop and Apps.
Let us know what features you'd like to see next by selecting "Send feedback" in the Phone Link app settings.
*Calls requires a Windows 10 PC with Bluetooth capability.
**Drag and drop, Phone screen and Apps all require a compatible Microsoft Duo, Samsung or HONOR device (full list and breakdown of capabilities: aka.ms/phonelinkdevices). The multiple apps experience requires a Windows 10 PC running the May 2020 Update or later and has at least 8GB of RAM, and your Android device must be running Android 11.0.
The Link to Windows accessibility service is for those using a screen reading tool on the PC. When the service is enabled, it lets you control all your phone's apps from your PC using Android keyboard navigation while receiving spoken feedback from your PC speakers.
By installing this app, you agree to the Microsoft Terms of Use https://go.microsoft.com/fwlink/?LinkID=246338 and Privacy Statement https://go.microsoft.com/fwlink/?LinkID=248686

Good App Guaranteed
This app passed the security test for virus, malware and other malicious attacks and doesn't contain any threats.
Apps like Link to Windows
Link to Windows - APK Information
APK Version
1.22082.136.0-beta
Package Name
com.microsoft.appmanager
Android compatability
Android 7.1+ (Nougat)
Developer
Privacy Policy
Permissions